If you're looking to stage your home within the Brisbane area, then chances are you've looked at art for staging. Staging your home is more than just throwing in a bunch of your furniture and hoping it works. Home and house staging is all about creating an environment where your buyers feel comfortable, and it makes them feel at home. Often, people think that having nothing in their homes when selling is the best way to go, but this can actually have the opposite effect. Empty homes feel cold and aren't at all warm or inviting. Instead, filling your home with beautiful furniture and things like art makes buyers feel much more comfortable and relaxed in the space.
For those who have been through the journey of styling and selling a home before, you'll understand that it comes with a thousand things to do. This can get really overwhelming and even emotional. Today, we're breaking down how to pull in art for staging homes and a few tips and tricks to help you along the way.
Do you really need artwork when staging homes?
When we stage homes in the Brisbane area, a common question we get is "Do you really need to style the home?" and "Do you really need that much artwork?" and our answer is always yes! Often, what people don't realise is how much furniture it takes to create a fully styled home. Below are our top two favourite reasons why you need art for staging.
It adds a sense of personality
The biggest reason we add artwork to a home is to bring in personality. When potential buyers walk through a home, we want them to feel something and a home without anything on its walls is usually considered boring and dull.
Creates interest in the space
Another one of our favourite reasons to use art in staging is how much interest it creates. Interest is what entices buyers for longer, and that's the exact effect that art and a well-staged property have.
How to choose art for staging homes
Now that we've understood the importance of art when staging a home let's move on to how to choose art when staging. As we mentioned earlier, when staging your home for sale, there are a thousand things to do, and picking artwork usually isn't top of mind. However, we've put together our top tips for helping you choose art for staging without getting overwhelmed.
Work within your colour palette
Colour is a big aspect in art, so it is no wonder it has a great influence over what you're going to pick when staging your home. When picking art for staging, we always recommend that clients work within the colour palette they already have. Although the artwork you choose mightn't be for your personal taste, it's what will best align with the principles of interior design and the cohesiveness of the space.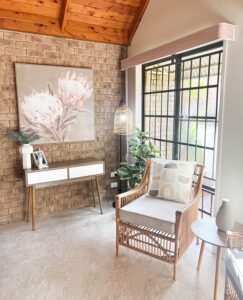 Add artwork within every room
Where you can, add artwork to every room. This is essential for those newly built homes to bring life back into the picture. If you have the capacity for it, add artwork into places like the powder room, living room and hallways. If not artwork, then at least a mirror or other wall alternatives.
Don't blow your budget
As much as we love the artwork, when styling and staging your home, don't blow your budget on artwork. Unless you are planning to keep your art pieces after your home has been sold, head to budget-friendly stores such as K-Mart or Big-W. Your artwork doesn't need to be expensive to have an effect on potential buyers.
Avoid anything that's been 'done' before
With artwork, there are a lot of repeats. This is anything from overused quotes or iconic imagery. While these can seem like a safe bet, often they can come across as a little tacky. If you're unsure about what to add to your walls, go for something abstract. This is usually the least offensive and appeals to a wide audience.
Don't overcomplicate it
For some people, diving headfirst into art is what they love, and while there's certainly a lot of meaning in art when choosing artwork for styling, keep it simple. Choose something that's neutral and simple.
What else to use other than art when staging?
If art isn't your thing, but you still need to fill up your walls, there are plenty of other options that you can use to fill your walls. We've listed below our two favourite options to fill your walls.
Mirrors
Mirrors are a great alternative to add to your home when staging or styling. As much as they fill your walls, they do a great job at reflecting light and making smaller spaces appear bigger than they actually are. When positioning mirrors in your home, place them across from a direct source of light to create that illusion of space.
Styling pieces
Styling pieces aren't just meant for your coffee table; there are plenty of styling pieces and items that are meant for your walls and add a great deal of texture. One of our favourite ways to do this is in the kitchen. Lean cookbooks and chopping boards against the splash, or opt for texture pieces like the one in one of our homes below.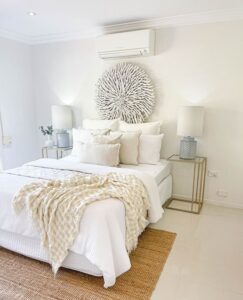 Final Thoughts
Styling and staging a home in the Brisbane area is a big job. It takes an understanding of what your ideal buyer is, and it can be a huge investment when you're trying to do this on your own. If you are interested in making your home selling journey easier, get in touch with our team. We're here to make your selling and styling your home stress-free. In the meantime, read through our blogs and follow us on social media for all of our tips and tricks.