To Have The Best Return On Investment
Although all properties benefit from a full property style, we believe two types of properties in particular benefit the most from staging. These being dated homes and extremely distinctive homes.
1. Older Homes
 Traditionally, older homes that were built in the 70s or 80s for example, will have unique features such as light fittings, box air-conditioner units and graphic tiles, or dated kitchen or bathroom fit outs. However, styling can help mask these areas that look particularly dated, by drawing attention to refreshed areas, such as fresh artwork and new furniture.  For example, Sell In Style recently styled a home that was built in the 80's and had the typical characteristics of an older home. These include; box wall-air conditioning units, old paint and brown sills, however we drew attention to other areas through eye catching focal points of colourful art, cushions and interesting furniture.
For instance, in the example below, this apartment was built within the 80's, with a deep red brick exterior, and bold tiled bathrooms and kitchens. However, our stylists have drawn attention to beautiful fresh furniture within, and created a liveable atmosphere that is suitable for today's market.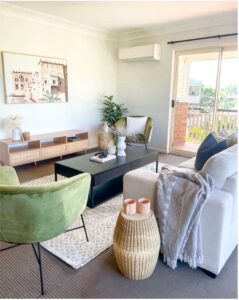 Styling gives an overall better impression of the home and the potential it has.
Often, if a buyer notices key 'old' features that they need to replaced as soon as they walk into a home, they subconsciously add the price of all of these items, and take it off the total amount of the offer that they would give. Therefore, by highlighting the positive features and distracting from the negatives, buyers will form a more positive version of the property value in their mind, and consequently offer a larger amount to purchase.
2. Distinctive Homes
The second property that has immense benefits to styling includes extremely distinctive homes. Like a dated home, we want to show potential buyers that they can work with what the home already has. For example, in homes with brightly coloured feature walls or bold wood panelling/bricks, the stylists can integrate the staging of furniture and décor for example, with the existing colour of the feature wall. As shown below, the stylists have created a consistent look with the colour orange, throughout the ceilings, cushions, art and floors of this home.
Here is another fantastic example of how our stylists have integrated the styling through the existing colours in the house, via the red and brown tones throughout the bricks, and also working with the existing wallpaper in a separate home.
Likewise, in homes with out of the ordinary layouts, stylists can stage the home in way that maximises functionality and usability. For example, we have staged homes in the past with random add on's and raised levels that we re-transformed into liveable areas. As shown below we have transformed this stage like, raised platform outlooking a pool into beautiful seating area. Ultimately flipping these quirky elements into spaces that make sense!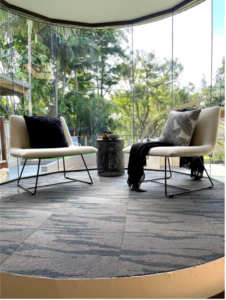 Like to know more about how to maximise the potential of your home?
Check out the articles below to find more tips from our experienced stylists!